Calling all San José residents, want to know more about Viva CalleSJ? Join us at one of our Community Meetings!
July 17, 2017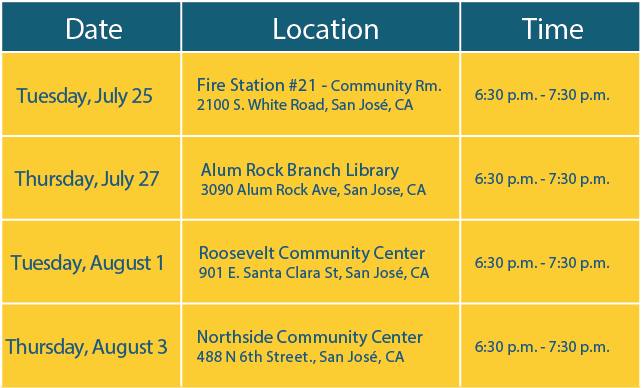 On September 17, 2017, City of San Jose Department of Parks, Recreation and Neighborhood Services is bringing Viva CalleSJ to a few of San Jose's most popular neighborhoods, including the following landmarks: Alum Rock Village, Japantown, Mexican Heritage Plaza, Lake Cunningham Park, and Roosevelt Park.
In our efforts to prepare you for a fun and smooth Viva CalleSJ as a local resident, and hopefully attendee, we'd like to invite you to a community meeting to learn about the potential impacts that your neighborhood may experience on the day of the event.
The specifics of this meeting will include parking and traffic details, volunteer and business opportunities, and other event expectations. To attend a community meeting near your neighborhood area, browse the options below and let us know you'll be there!

Community Meeting #1 - Lake Cunningham Park Region

Community Meeting #2 - Alum Rock Village Region

Community Meeting #3 - Roosevelt Park Region

Community Meeting #4 - Japantown Region