Still Rolling! Viva CalleSJ is back with 7 more miles of open streets for 2017! Check out this year's Downtown & Eastbound: El Corazon route.
May 11, 2017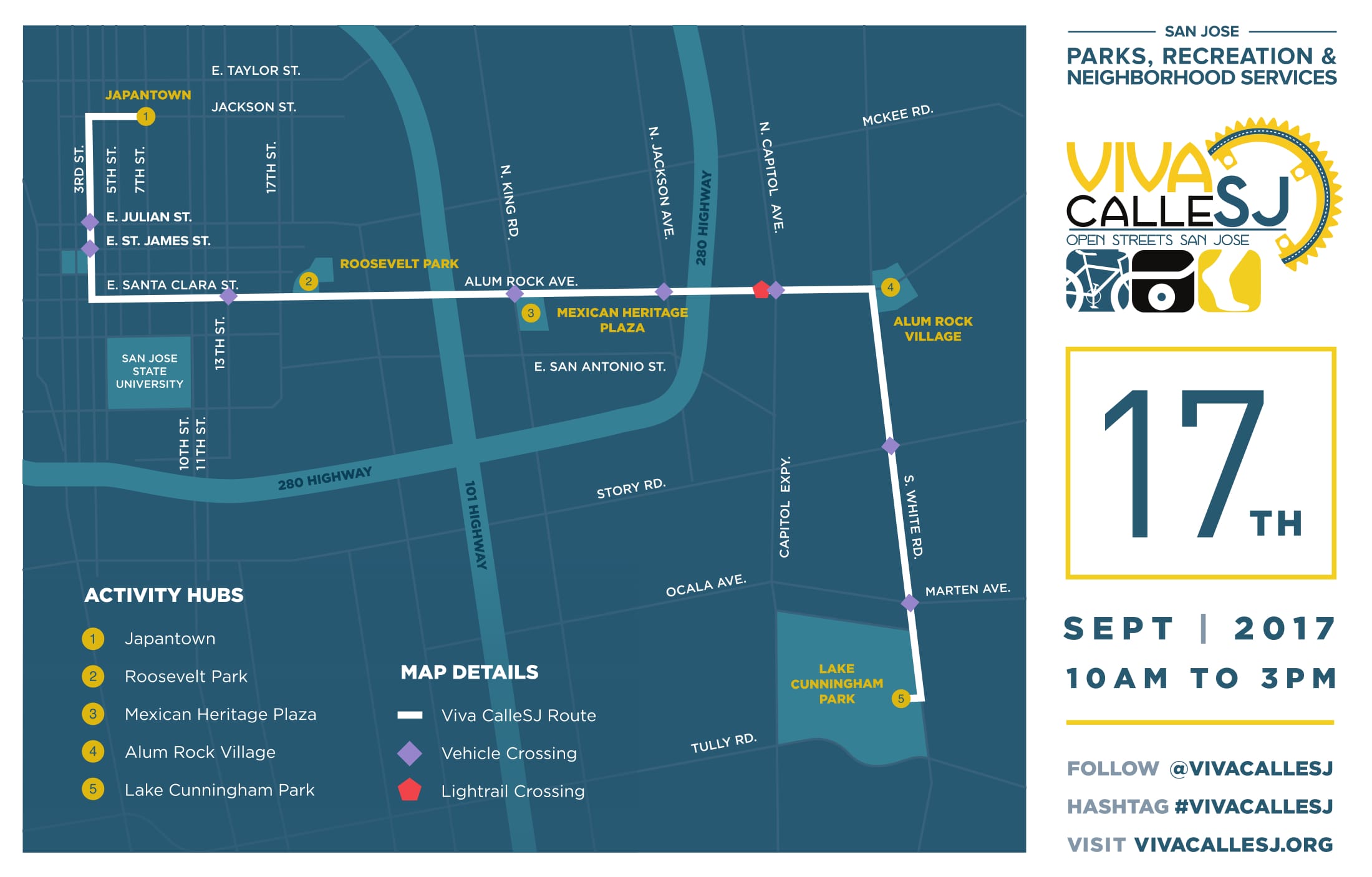 The 2016 Viva CalleSJ program brought 100,000 residents out and into the streets of San José to walk, bike, skate, and play with the From the West: Glen Meets Zen event. This week, the City of San José Department of Parks, Recreation, and Neighborhood Services (PRNS) and program partners are excited to unveiled the Viva CalleSJ Open Streets program's 2017 route during Bike-To-Work Day.
On Sunday, Sept. 17, 2017, San José residents will be able to explore more than 7 miles of San José's roads. This year's event, Downtown and Eastbound: El Corazón will connect San José's historic Japantown, through the downtown, to East Side's Lake Cunningham Park. Neighborhoods may notice a distinct absence of motorized vehicles traveling their streets. For one day, throughout some of San José's most historic and eclectic neighborhood streets like Jackson Street, Santa Clara Street, Alum Rock Road, and White Road, will be opened to Bay Area residents and closed to cars. Viva CalleSJ participants are encouraged to explore San José like never before by any form of non-motorized transportation. Bike, skate, walk, play – Open Streets San José!
"Building off the immense success of last year's Viva CalleSJ, our department is excited to share this program with Bay Area residents for a third consecutive year," said PRNS Director Angel Rios, Jr., "Two cornerstones of our department are connecting people to people and building community through fun - both of which are exemplified through Viva CalleSJ".
Program partners are equally inspired to bring this opportunity to San José residents. "Viva CalleSJ is a wonderful opportunity to bring people together, to get people literally out on the street, walking, cycling, scootering, socializing and building community. We are thrilled to partner with the City of San José for the third year of this event," said Sara H. Cody, MD, Santa Clara County Health Officer and Public Health Director.
"A community that values and encourages bicycling is a healthy community," said Shiloh Ballard, Executive Director of the Silicon Valley Bike Coalition. "Last year's tremendous success took thousands of people out of their cars and showed how riding a bicycle, walking or skating can be a core component of a healthy and active lifestyle. Now, we're ready to do it again."
It seems, too, that San José residents are ready for Viva CalleSJ. A survey of participants from the inaugural event found that 86 percent of responders stated they would "very likely" attend future Viva CalleSJ events. Not only is Viva CalleSJ an experiment in social integration, it's also the perfect opportunity to engage in physical activity, participate in entertaining organized activities, and be an active participant in reducing carbon emissions as we remove vehicles from the road during the six-hour program.
To receive the latest program updates, follow Viva CalleSJ via
Facebook
,
Twitter
, and
Instagram
, or visit our
website
frequently.