A Recap of Another Successful Viva CalleSJ
October 11, 2016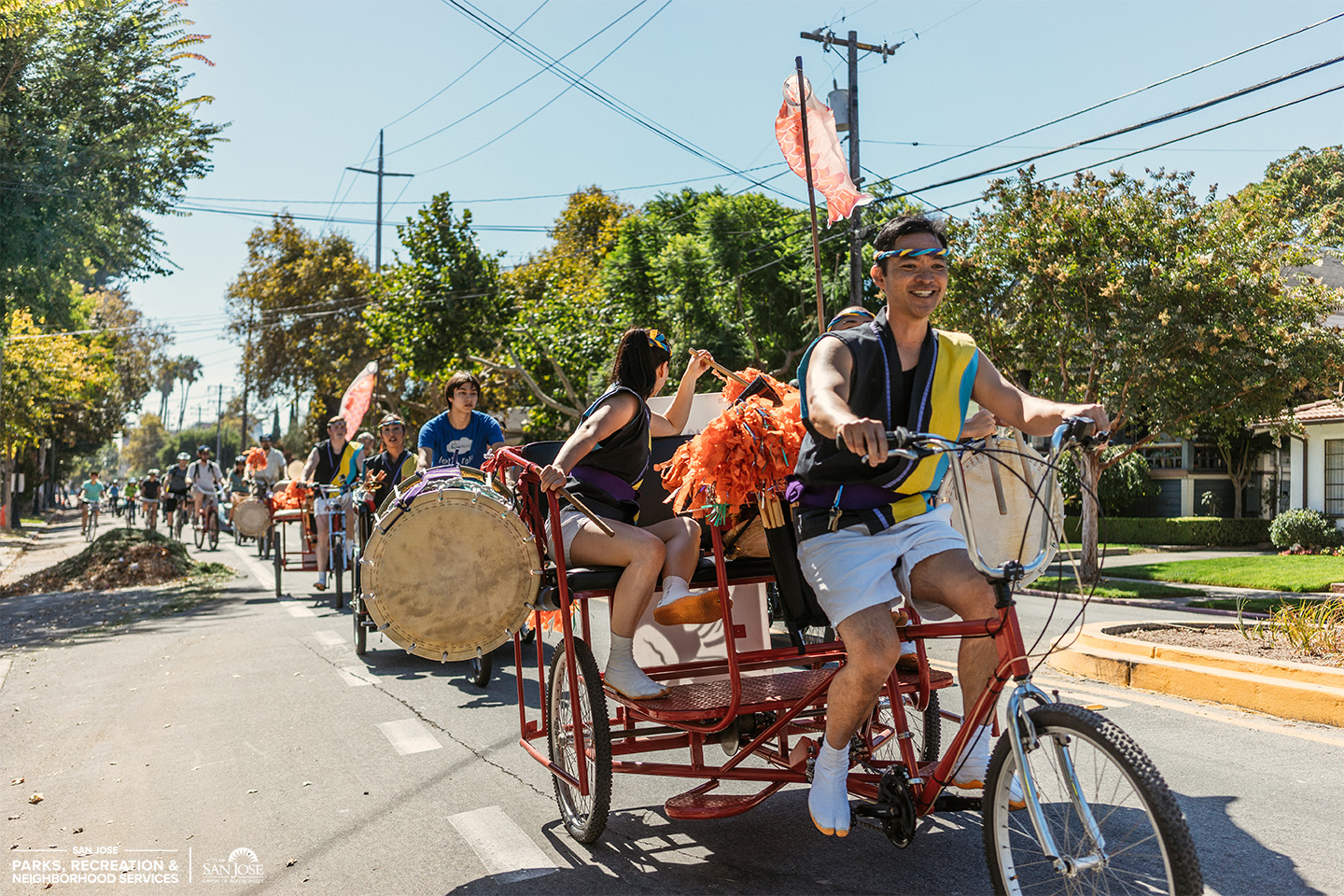 Are you still smiling, San Jose? We know it's been a couple of weeks since Viva CalleSJ, but we still get giddy reminiscing about our experiences that day. We are happy to give you a brief update on the success of this program, and to thank all of the people who made it a success.
On Sunday, September 18, "From the West: Zen Meets Glen," the second edition of Viva CalleSJ took place, opening up six miles of roads along Willow Glen, Japantown, Downtown San José, and the Burbank/West San Carlos neighborhoods for people to walk, bike, skate, and play. Estimates have put attendance of up to 100,000, or nearly triple last year's numbers of people.
View a gallery of photos from the City of San Jose, as well as those shared by the community – share yours through social media using the hashtag #VivaCalleSJ!
Other updates to note:
You can still purchase your Viva CalleSJ 2016 shirt, designed by San Jose Japantown's Cukui. They are $20, and you can contact the City of San Jose's Brian Clampitt at brian.clampitt@sanjoseca.gov.

We welcome all feedback that can ensure future Viva CalleSJ programming is a success. If you have anything you'd like to share about what you liked best about this year's Viva CalleSJ, or ways that we can improve, please share them using the comments box below.

With another enthusiastically positive response, the City of San José and partners are working hard to get the investment needed to make regular Viva CalleSJ programs a reality. If you'd like to support this work, contact Brian Clampitt at brian.clampitt@sanjoseca.gov or stay updated on future news about Viva CalleSJ, please follow Viva CalleSJ on Facebook, Twitter or Instagram.

Interested in getting involved with future Viva CalleSJ programming, whether as an individual or organization? Please contact Brian Clampitt at brian.clampitt@sanjoseca.gov.
Getting more than 40,000 cars off the street is no easy task. The program was a product of collaboration: organized by the City of San José's Department of Parks, Recreation, and Neighborhood Services in partnership with Silicon Valley Bicycle Coalition, generously funded by the Santa Clara County Public Health Department, and supported by the San José City Council, San Jose Police Department, the Department of Transportation, the Office of Cultural Affairs, Valley Transportation Authority, the John S. and James L. Knight Foundation and countless community supporters.
A number of organizations contributed to Viva CalleSJ's success as sponsors: Kaiser Permanente, Mix 106.5, Mineta Transportation Institute, Moveable Feast, Silicon Valley Metro, and Youth Connections Foundation.
Viva CalleSJ would like to extend our thanks to the all volunteers who worked hard all day in order to help us keep the inaugural Viva CalleSJ safe and make it a huge success. A special thanks to our Adopt-an-Intersection organizations who helped to keep participants safe at intersections open to cars: the Willow Glen Business Association, Queenhype, Escuela Popular, Billy DeFrank LGBTQ Community Center, San Jose Youth Commission, and The Foundation for Hispanic Education.
Additionally, Viva CalleSJ would like to say thank you as well to the great local bicycle businesses that assisted with bicycle repair at our Activity Hubs: Mike's Bikes, La Dolce Velo, Bicycle Express, San Jose Bicycles.