What's the best way to get to Viva CalleSJ? Take VTA! VTA is the official transportation provider of the Viva CalleSJ Open Streets Program.

Due to road closures that will be in effect for Viva CalleSJ, vehicle traffic may be impacted and parking restricted. We encourage you to take VTA.

To get to the event, jump on board a VTA bus or take advantage of VTA light rail, which drops you off in the heart of downtown at Santa Clara, Saint James and Japantown/Ayer stops. Check out VTA's 8-Hour Excursion Pass if you plan on taking light rail for the day.

Several VTA buses are being rerouted for the event to accommodate the closed streets. Plan ahead and check out their reroute notifications for the best way to get to Viva CalleSJ.

For assistance in planning you trip, please call VTA Customer Service at (408) 321-2300.



VTA Reroute Map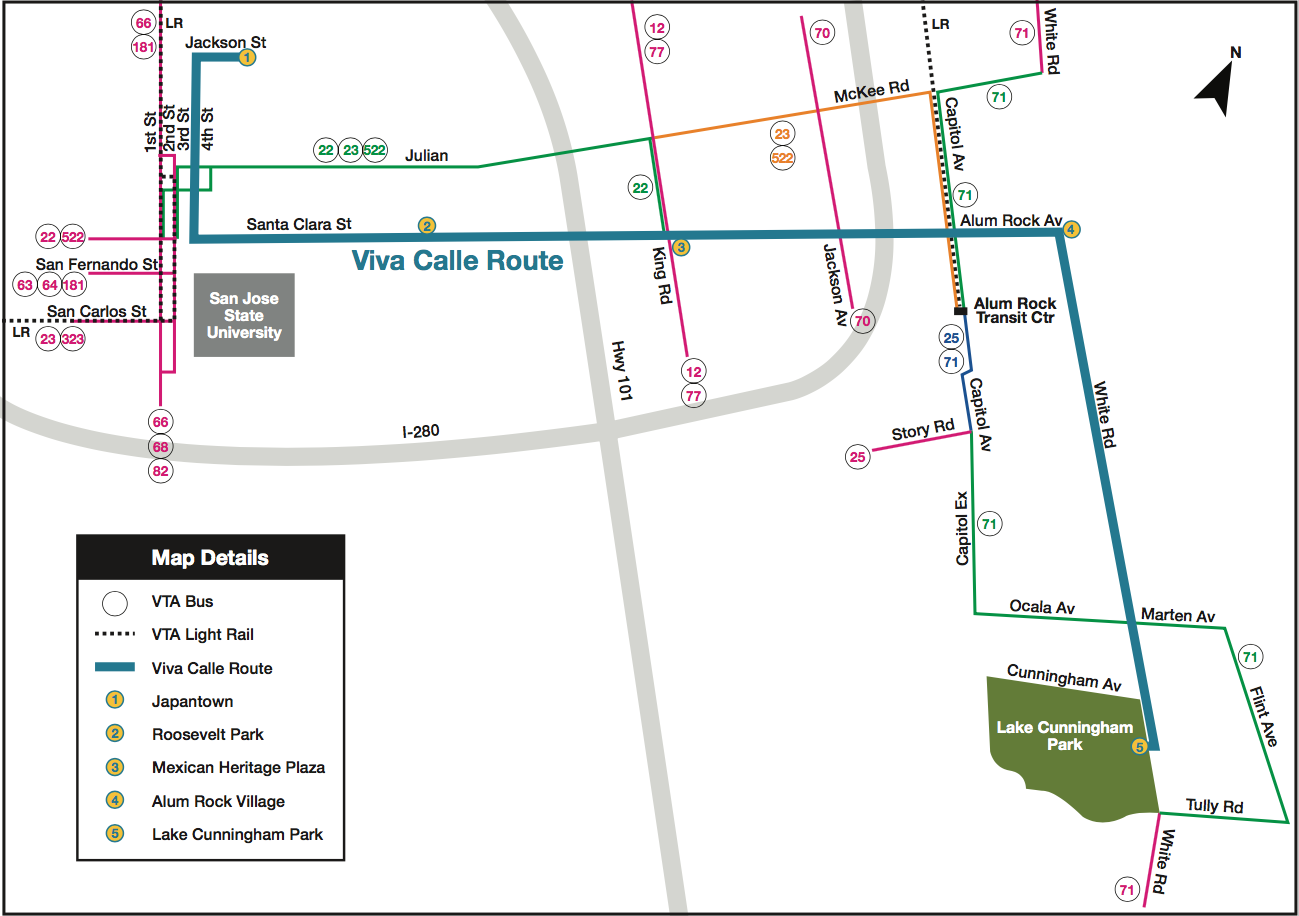 Road Closures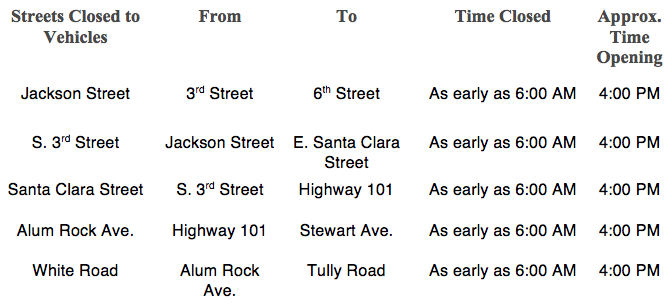 Crossing the Route in a Car

Cars can cross the route at various major intersections, highlighted by yellow circles on the event map (see main event page). San Jose Police and Viva CalleSJ Volunteers will be posted at car-crossing points to assist with the flow of vehicle and participant traffic.




Vehicle Crossing Points
3rd Street and E. Julian Street
3rd Street and E. St. James Street
13th Street and Santa Clara Street
N. King Road and Alum Rock Avenue
N. Jackson Avenue and Alum Rock Avenue
N. Capitol Avenue and Alum Rock Avenue
Story Road and White Road
Marten Avenue and White Road

Resident & Business Parking for Viva CalleSJ Cars parked along the route on Viva CalleSJ day will be towed. No cars will be allowed to enter or exit the route for the duration of the event. Any driveways or parking lots connected to the Viva CalleSJ route will be inaccessible. Check for parking restrictions on your street and in your neighborhood prior to the event. Additionally, street parking near the route may be restricted due to road closures.




Parking for Viva CalleSJYou are more than welcome to find parking where available along the route. However, due to road closures, street parking may be extremely limited. We highly encourage you to take VTA to avoid parking issues or arrive early!

For additional parking location check out this LINK to find parking in the downtown area. Parking fees may apply.